Rotary mixer POX-S
Mixing simple and easy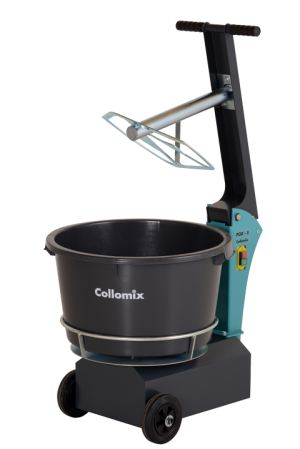 Sepa­rate tub drive
Edge and bot­tom scra­per
High mobi­lity and light weight
A very easy-to-operate rotary mixer, the POX-S with a fixed mixing tool and a rotating, 65-liter mixing bucket is especially suited for the clump-free processing of various materials. The rim and bottom wipers provide clean mixing results.
Rotary mixer AOX-S
Lumpfree and fast mixing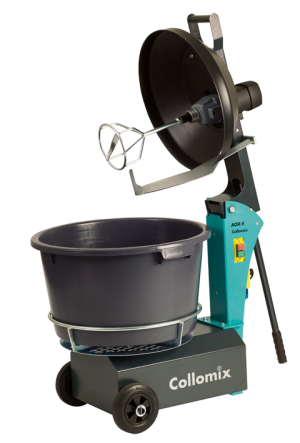 High mobi­lity and light weight
Sepa­rate tub drive
Hig­h-­speed mixing tools
Edge and bot­tom scra­per
All-around performance: in the AOX-S rotary mixer, a special, 65-liter mortar mixing bucket rotates around a fast-turning central stirrer. It's practical: an edge wiper prevents material deposits on the rim of the bucket and guarantees a thorough mixture. Depending on viscosity, the AOX-S comes standard with two exchangeable mixing tools,
LevMix flow compound mixer
Mixing, Transporting and Pouring in a single operation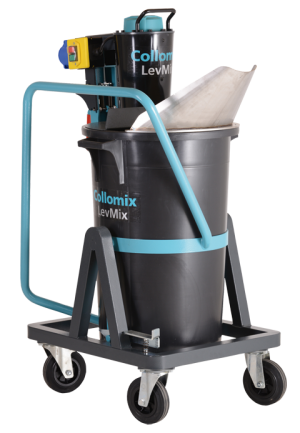 Per­fect, lum­p-free mixing results
Pou­ring without repot­ting
Large capa­city - max. 3 sacks
Com­plete mobi­lity
Dust collec­tion
With the LevMix flow compound mixer you can mix self-leveling fillers and leveling compounds without any lumps in next-to-no-time. The LevMix effortlessly mixes three sacks of material in one go without any physical strain for the operator.
Compact mixer TMX 1000
Mobile mixer - Ideal for ready-­mixed materials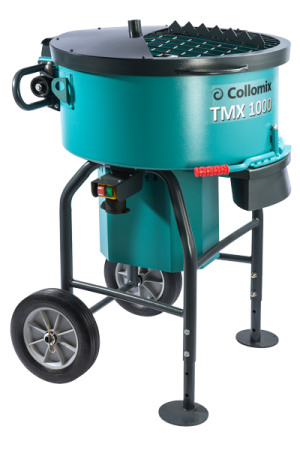 3-arm mixing tool
Easy to fill
Dust extrac­tion
Com­pact and rug­ged design
Mobile and maneu­ver­a­ble
Easy to empty
Easy to clean
Crane lif­ting eyes
TMX 1000 TZ espe­cially sui­ta­ble for ter­razzo
When it comes to preparing ready-mixed goods supplied in sacks, the TMX 1000 compact mixer is the number one choice and a trusty companion! The powerful Collomix mixer is far more effective than the gravity mixer at mixing screed or cement, saving time and money and doing a thorough job.
Forced-action mixer XM 2-650
High perfor­mance mixers for pros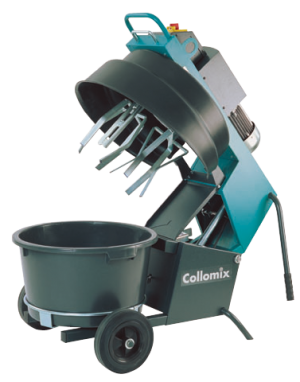 2 mixing speeds
Pla­ne­tary gearing
Mixing tools for dif­fe­rent vis­co­si­ties
Edge scra­per
Mobile in ser­vice
Timer
The high-performance mixers for special applications; high-quality technology, robust and powerful. For mixing capacities of up to 50 litres.
Forced-action mixer XM 3-900
The high-per­for­mance mixers for special applica­tions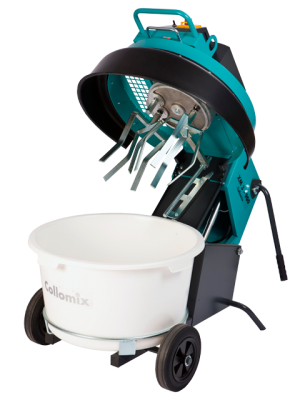 2 mixing speeds
Pla­ne­tary gearing
Mixing tools for dif­fe­rent vis­co­si­ties
Edge scra­per
Mobile in ser­vice
Timer
When processing thick-flowing, viscous, runny, dry, single-component or multi-component materials, the XM 3-900 forced-action mixer will always serve you well. For capacities of up to 70 litres.